If you think it's a paid review, you are wrong. Encanta has never published a single paid review in its history. Nor have I ever written a single paid review. I write a few, they are all true. Yes, they very kindly sent us the program to be tested, because I requested it, but I also wrote to him that I would have evaluated it anyway, and that the review would be impartial. In summary, I can tell you that I am an advanced user of e-mail, that there is no e-mail client that I have not tried, that by now since the advent of Windows 10 and the Office suite in an obligatory annual subscription, with updates and settings which are practically imposed by the parent company, Outlook and all its relatives began to be close to me. If you are looking for an alternative e-mail program to Outlook, EmClient should try it. I'm sure you will appreciate its efficiency, functionality, practicality, simplicity along with all the possible customizations you want.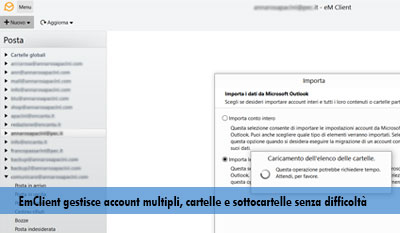 Some premise that can be useful to you: I always use email, in every field, personal and professional, I am an advanced digital user, I need things that work well, practical, efficient, and, often, with many customizations which are hard to find. I am also quite habitual, or, I should say, faithful. If I find a software that I like, I continue to use it until it satisfies me, I can't be influenced by advertising or promotions at all, what interests me is the facts.
Over the years, I have used almost all email programs, some of which are no longer in production: Netscape, Pegagus Mail, Eudora Light, Incredimail, Pegasus Mail, Dream Mail, fox Mail etc. etc.
Tried, but not used. I liked Netscape, but it didn't last long. Pegasus belonged to a Spartan generation that did not reconcile with the fact that I followed dozens of e-mail accounts, and related folders and sub-folders. Today, the number of is very small, I use "only" 23 different accounts and multiple sub-folders, I would say, a hundred. It doesn't take much: I have an account for information, a work staff, a private staff, one for correspondence in English, one for administrative procedures and so on. I follow various projects, each project has its own domain. Once upon a time, I followed many more.
Eudora never impressed me, while I liked Outlook Express. I've always found Outlook too heavy, and I don't like pre-settings that are almost mandatory with events and calendars, I like freedom, and also privacy. Unfortunately, no e-mail program is eternal, after Outlook Express I had to switch to Windows Live Mail, which was the one that looked the most like it. In the end, only Outlook remained, a little more suited to what I needed. Powerful, well structured, and with many services. Not very flexible, for my needs, but I have adapted. In the last few years, after the suite has been sold only as a subscription, many things have changed. Of update in update, both Word and Outlook have begun to show pre-set options that I did not like , and that took too long to change. So, a couple of months ago I looked for an alternative to Word, and I found it in LibreOffice, which is free (while with OpenOffice I didn't find myself as well, because it crashed with 80 percent of the .docx files to convert). But it wasn't easy to find a replacement for email. But when Outlook pretended to prevent me from manually setting the parameters of the mailboxes, except with laborious passages and changed the graphics without my being able to have my say, then I decided that the time had come.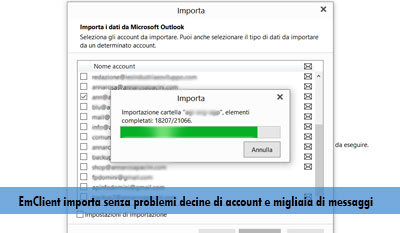 I tried the most recommended ones on the net, especially those with the possibility to manage multiple accounts , Mozilla Thunderbird, Mailbird and some others, but they were not good for my needs. I'm not bad, but I find Thunderbird not very flexible, while Mailbird doesn't like the structural concept, that is, it's designed in a way that I don't find suitable for my way of thinking. Then, finally, emClient. I tried the free version first, which does not allow, however, to test more than two e-mail addresses (accounts) at the same time. This is why I wrote to the company and asked them if I could have a pro copy in full version, to be able to try it before buying it, with impartial review. It's the copy I'm using now.
EmClient, because it works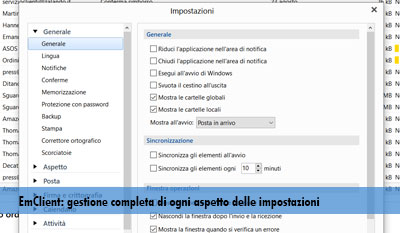 It works because it is a robust program: it was the only one in the history of the e-mail programs I used that could import completely all e-mail boxes, including folders, sub-folders and content. On 23 I was able to import 15 automatically, while for the other 8 I had to first import the contents into the account and then insert them in the folders. It took a few more minutes, but it was worth it. These are some of the email accounts I have been using for the longest time, and Outlook, at the time, failed to import correctly from Windows Live Mail, even though they belonged to the same "family".
During all the import and setting work, he stopped only twice, never losing the job I had done up to that point. It is robust but also functional and flexible, well thought out by those who planned it.
EmClient, what allows you to do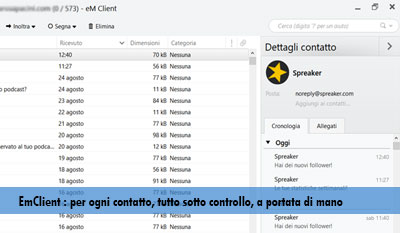 It allows you to do everything: from the most "frivolous" things (but only apparently, because aesthetics is important, in a program that is used constantly) such as appearance, to more specific ones, such as encryption.
Appearance
You can choose one of the themes already present, and further customize it after activating it. Colors, size, position and types of columns, which you can customize for each account, or, once you have chosen your favorite, simply set it for others
Parameters to set
Successfully imported all the parameters , of domains supported by different hosing providers. I had to intervene only for the boxes on gmail and PEC, but this is a necessary intervention, because it depends on the pre-settings decided by Google and the PEC service. It was very simple.
Display
Finally, after years of subservience to the arbitrary decisions of Outlook, I could fix and organize the program just as I want . There is a folder that contains all the new e-mails of the different inboxes, a second one that keeps in memory those still unread. In short, it will be difficult for you to forget to answer an important message.
In addition to all the essential functions, it is also rich in advanced features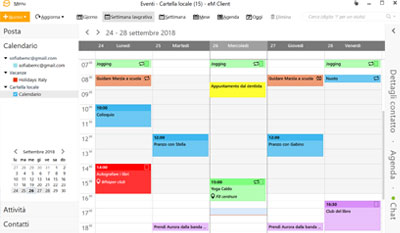 Calendar, activities, contacts and chats well designed. And if you want, you can activate warning messages , with respect to important communications for you.
It also has a sidebar that you can keep down to but which can remind you of what interests you the most: for example, you can have the message history you exchanged with a specific user, the agenda, and what you decide to enter.
The internal search for messages works very well, I got to try it even with imported messages, no difficulty.
There is no shortage, as I told you, of fundamental functions: spell checking, setting of custom message rules in every aspect, signatures, encryption, up to the work of the translator, the weather, the automatic download of the avatars of your contacts . You can also chat live on Google Talk, Jabber or any other XMPP-based service.
And in order not to post any message, you can set the automatic backup, so as to avoid any risk. You decide the periodicity and EmClient thinks of everything.
Supports all major services, including GSuite, Exchange, iCloud and Outlook. It has a touch support that also allows it to be used on tablets and hybrid devices (I still haven't had a chance to try it, but I don't doubt that it works great there too). It is translated into many languages, even very well.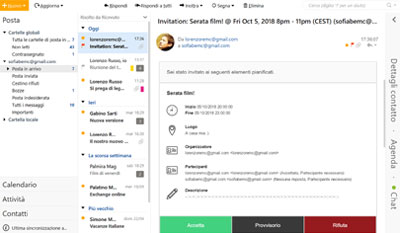 I could tell you a lot more, but on their site (EmClient) find lots of information, I strongly suggest you try the free version (for Windows or Mac), and you will be able to verify the extraordinary quality of this program by yourself.
Finally, and it is not cheap, it does not ask for an annual fee: the purchase is a one-off payment. Buy the license and it's yours, the more licenses you buy, the more you save, and you can even decide to buy Lifetime updates. 30 days guaranteed refund.
This is my review: I like EmClient, it has completely replaced Outlook with no problems, and it has become my all-time favorite email program, the best, compared to all the ones I've used to date .
If you are looking for an alternative to Outlook, if you want an e-mail program that works well, easy to use if you are not an expert, super-customizable if you are a super-expert, try it, and you will see for yourself that it keeps everything it promises . Suitable for individuals, professionals and companies. Ah, I forgot, they are kind, they respond quickly, and assistance is always available. But they also have a great support section, both for the Pro version and for the Free version.
EmClient, home page (English language):
EmClient, the official site
EmClient, home page in italiano:
EmClient, il sito ufficiale in italiano